Brain-Based Learning & Thinking-Based Learning
In the 21st century, the profound discovery in neuroscience takes education professionalism to a new level. A key goal of this Expo is to offer educators concrete and practical suggestions in connecting neurological findings to pedagogy. To enable more learners excel in their learning, we need a community of educators who design and deliver lessons with better understanding on how human brains react to the physical, social and emotional learning environment; how learning tasks can be structured to challenge the brain to perform higher cognitive functions like making meaning or finding patterns, how to gain learners' attention and better facilitate the balance of brain chemicals.
With the brain as the hardware in its right state of learning, the purposeful infusion of Thinking skills offer learners the software for powerful conceptualization of learning. Skilful thinking does not come naturally, just like we are all born to swim but not everyone becomes skilful swimmer. Teachers who design lessons employing thinking instructions; variety of thinking tools and opportunities for learners to visualize their thinking coach learners in becoming powerful thinkers throughout their lifetime.

The International Brain and Mind Expo 2012 is organized by Institute of Brain and Mind Education & Association of Brain-based Education in Hong Kong
Institute of Brain and Mind Education was initiated by Anson & Ricky Chan, the only 2 International recognized Brain-Based and Habits of Mind Trainers in Hong Kong. Since 2005, more than 8000 educators and over 20000 parents have been trained in the light of "Teaching with the Brain in Mind", "Parenting with the Brain in Mind", "Thinking-Based Teaching", "Habits of Mind" by them. They've worked with different departments of Education Bureau, The University of Hong Kong, The Chinese University of Hong Kong, Baptist University, The Hong Kong Institute of Education, The Academy for Gifted Education, Primary schools, Secondary schools and Kindergartens. Their missions for the coming 2 years are organizing the 1st International Brain and Mind Expo (Feb 2012) and provide intensive "Brain-Based" training for Hong Kong parents.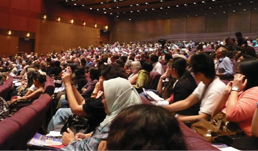 Brain and Mind Expo in Hong Kong